This is my Mk2 Super I've owned for 3 years now.
Discussion Thread
http://www.oldschool...hp?f=18&t=24726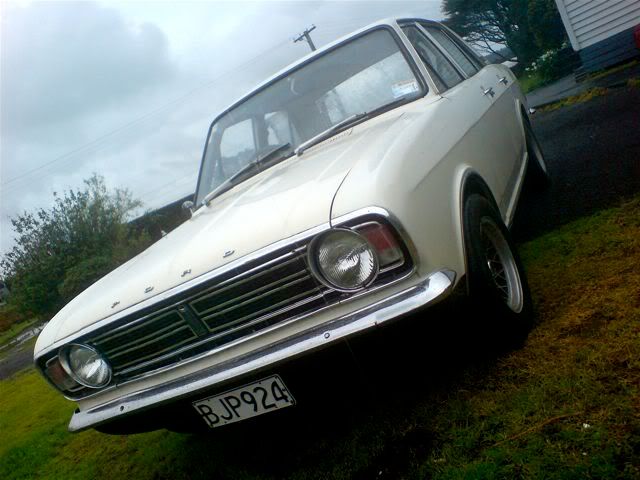 Found it one night bumming around on trademe for a low $2500 starting bid with no reserve. Warranted, Registered and in daily use.
Just so happened to get a phone call from the bank a couple of days before saying that one of my loans I had for work equipment was almost paid off and they would be happy to lend me some more. Hahaha the temptation was too much. I made the bid on the car without even seeing it and waited till I got home from work the next day to find out I had won the auction. Couldn't believe that with all the ford nuts in New Zealand that none of them we're interested in it. Was fully expecting to find out that I had been outbid and the price was somewhere up around the $4000-$5000 mark. So within the next few days I sorted out my paperwork with the bank and got the cash to go and pickup the car in St. Mary's Bay.
Below, The Cortina club at work and its 2 members cars.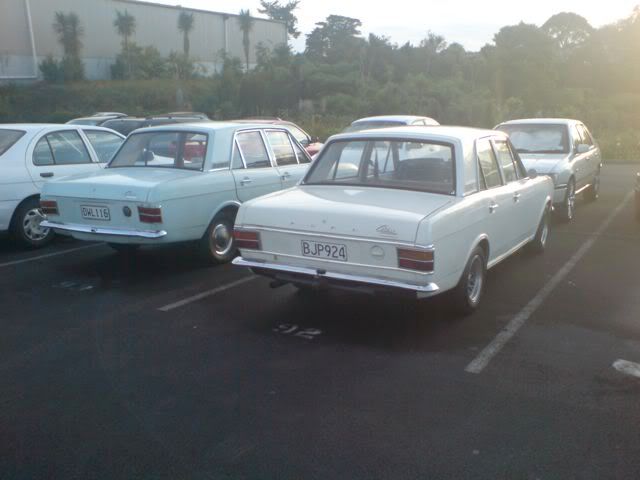 On closer inspection I couldn't believe my luck. The car wasn't by all means immaculate but it was reasonably tidy. The paint was shrinking after all those years and there was a few rusty spots. Pretty original apart from the wheels and lowered stance.
Paid the nice guy his $2500, got the keys and started my mk2 adventure. Ran out of gas shortly after....hahaha.
Theres something awesome about driving a car that's pretty uncommon these days on our roads. Probably everyone on oldskool can probably attest to that. My 120km round trip commute to work was now alot more fun. I drove it every day cos driving it once made me hate my 89 corolla runabout. The shoddy brakes made me pretty nervous though, especially in Auckland traffic.
The only issue I had with it in the first 6 months was with the solenoid. Sometimes it just wouldn't start for a while. My sisters boyfriend told me that if I bridged the two points that it would give it a kick to start the thing and it worked. Just needed a spare set of hands to turn the key every time it wouldn't fire. Random people in the street can be so helpful... Had someone look at it and they diagnosed that the solenoid was at fault cos it was receiving enough power. Sourced a replacement off ebay in the uk and had it fixed the following week.
Probably shouldn't admit to this but what the hell... Was concerned about my brakes and decided to take the front wheels off and have a look at what I was dealing with. Looked all good and as it should've been but decided that the brakes would definitely need upgrading. Four Wilwood 4 pots probably and a disc conversion kit for the back end???
Anyway when I was done I chucked the wheels back on and put the car down to tighten up the nuts. That's when someone distracted me and I ended up driving down the road a short time later with the wheel nuts flying off. Luckily I managed to pull over and stop before the wheel rolled away infront of me. Hahaha What an amateur! No damage done.
My first warrant was now fast approaching and the rusty spots were showing through more and more in the body were starting to worry me. Guy at work had said that there was a guy just down from work who was really lax on giving a WOF so I went to see him. Anything to keep driving it a bit longer! Turns out he had a cortina years ago and was just as much a fan of them as I was. Sweet as dodgy warrant!
Moved closer to town so the cortina was retired from daily use. Made more than a few trips in it over the weekends though to keep me happy.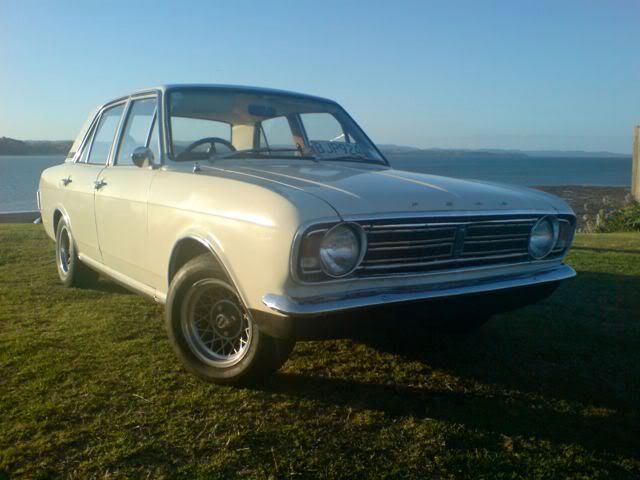 Failed it's next warrant on a bunch of different things. Rust in the firewall somewhere, Engine blowing too much smoke, Non existent rear brakes.. the list goes on. Anyway it was gonna cost too much to get everything fixed and it was money I didn't have so it was a regretful goodnight for my mk2.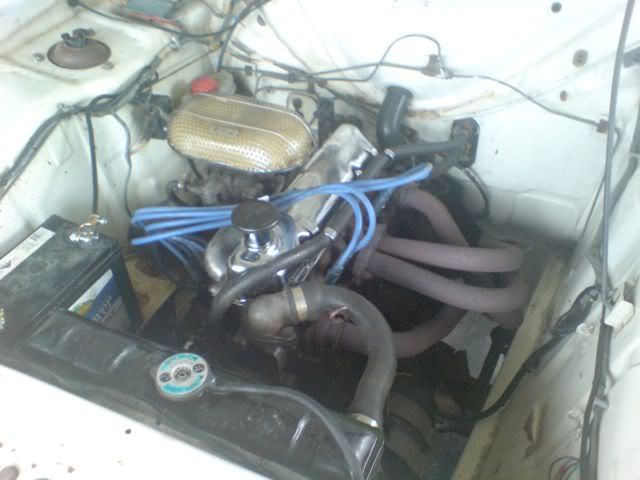 That was now 3 years ago!!!!!
. Fuck it sucks how much of a procrastinator I am. It's always gonna be a project that gets finished. It's just a matter of how long its gonna take and how much its gonna cost.
I've been overseas and come back with a big thirst to get the Tina rolling again. Engine has completely seized now. I bought a couple of crossflows from a mk2 guy in Welly. Possibly Gaz? Scored some good parts including a flat head, 711M Block, Rally cam and electronic ignition. Just gotta find someone willing to build it as I'm not much of a mechanic. Thats a while off anyway, for now its all about curing the cancer in the body.
Would really like to get the car out of parents crowded shed and into storage where I can do some of the basic bodywork on it but that itself ain't cheap. Anyone know anywhere cheap where I can do work on it? As you can see my current arrangement is a little cramped
You can see that below the bumper that someone has painted it with black underseal. Bit wierd.
Just to share....Theres a few places I've found through Classic Ford Magazine (UK) that make replacement panels.
http://www.steelpanels.co.uk
they make pretty much everything. It's not cheap though especially when you gotta freight them over here. Its probably worth the money to get it done right.
Interested to hear from anyone who has done this to find out how much it costs.
http://www.smithanddeakin.co.uk
Fibreglass panels. Cheaper than steel replacements but harder to fit I guess. Anyone done it?
The frame on the inside of my bonnet is so far gone It's not funny so I got a fibreglass one made by F.A.R in Gisborne
http://www.gisbornes... ... lacements/
Its probably gonna need pins to hold it down but thats ok.