Talky here:
viewtopic.php?f=18&t=22717
Well this all started out in 1999 as a fibreglass fronted roll-caged race car I had which was de-seamed and not getting a lot of use, so the plan was hatched to find a road going shell to put all the bits in to.
In Renwick I found a reasonably rust free 850 mini complete with wand change gearbox and red interior. The first step was fit the widened steelies with sticky Yokohama a008's I had and attempt to destroy the original motor and box.
After a few weeks the engine had not died, but it was well down on compression, so it was out with the old and in with the not quite so old.
Travelling through Levin at midnight the engine developed such a loud knock that the massive sterio would not drown it out…
This was the start of the project proper.
What followed a full bare metal re-spray, 4 pot metro brakes, flares, 13'' wheels and the worlds most expensive 'a' series engine rebuild.
Sorry all the progress pics for this are on film as I wasn't rich enough to own a digi cam back in the early 2000's
it looks a bit like this today (although probably with a bit more dust on it)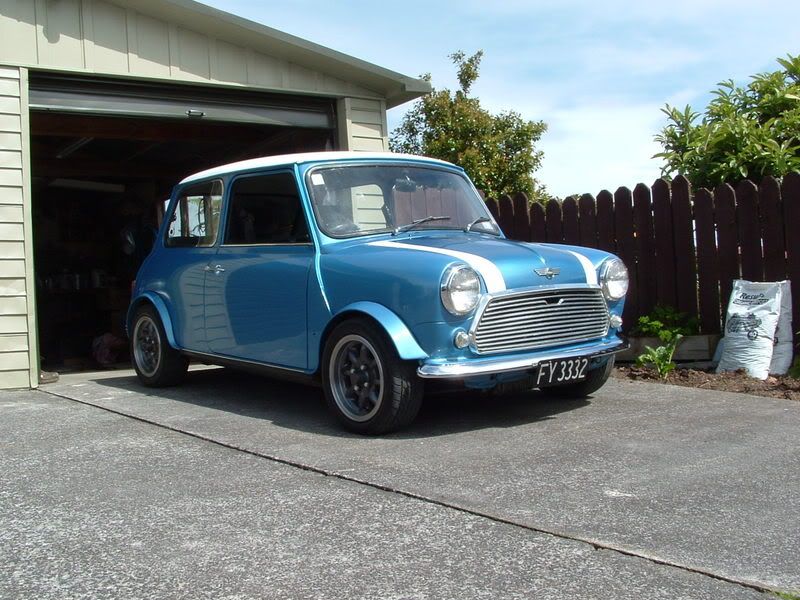 Currently the car is awaiting a shiny new 296 kent cam with matching oil pump, which has been sitting on a shelf in my shed for nearly 12 months..
The reground 286 scattercam copy really does not hit the spot even though the idle sounds awesome.