... of front tuggedness
This may or may not be to most people's tastes but thought I would slam it up here for those that are interested.
So car is a 1986 Toyota Corolla Liftback (5 door). Featuring 2e 1300cc econoplant. Originally purchased new by my parents in '86, it became mine, then I gave it to my sister, but when I wanted a car to fool around with I took it back.
So high school saw many trips to pick-a-part without much of a clue to pick up odds and ends that were broken.
When I got it back form my sister she had destroyed the clutch (that was pretty much shagged from skids anyway) so I figured I would change the clutch and use it as a cheap daily - my other car is a falcon wagon.
Decided to have a look for surface rust etc while doing the clutch and found that after being rear ended three times and just tugged back into place that the rust had set in well. So it will need more of a fix.
Not sure if I will attack this myself or pay someone as it looks beyond my limited panelwork and welding capabilities.
So instead of just changing the clutch I decided I would get into doing it up, so have been saving and buying parts as I go, including 3 donor cars.
First things first, the doors were shagged so I purchased another liftback and swapped the doors and trim etc over, plus added the consoles that mine was missing (low spec model).
Then a damaged fxgt came up that had a smallport transplanted for cheap so I snapped that up and came up with the idea of shifting the drivers side engine mount forward 50mm and drop in the smallport. This fxgt was auto though so it was going to mean getting the manual conversion elsewhere.
Also shocks on this are nearnew so will be swapping them over, they also have king's superlows on them which is a bit of a fail but should at least get it slammed.
Then being an idiot I thought I would collect some 20V Silvertop parts and engines and use them. Of course that was an epic fail as I soon realised I needed more bits and bobs to actually make it work. Luckily I got the engines cheap and parted them out for a profit.
Then an AE111 BZG came up on trademe cheap (deregd) so I snapped that up and now will use the 4age Blacktop. Originally (when I was still dreaming) I had planned to turbo the blacktop but now I have pretty much decided against it, as the car only weighs ~950kg a N/A thats tweaked a bit should be more than enough for shenanigans.
The only thing I need now is an lsd (and some welding and fabrication skills) and its a matter of swapping in all the EFi bits and pieces and a shitload of wiring.
Of course I have spent more time buying less than necessary bits for it and less time actually working on it. Mainly because I have been stripping parts off the donor cars and making my money back on them, and raise funds to buy goodies.
Anyway pics at last for those who care.
2e in all its glory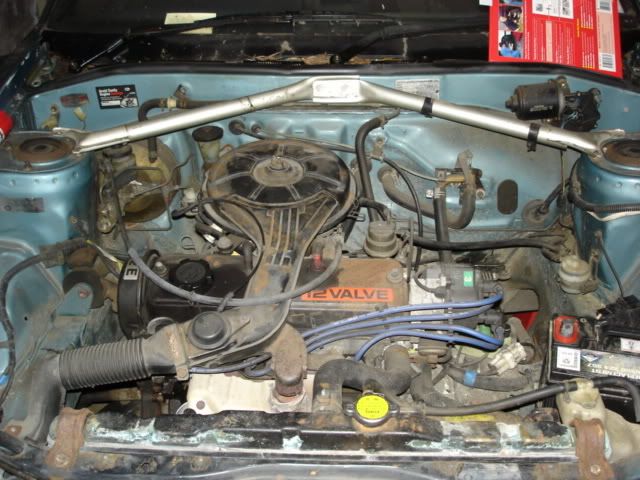 Liftback donor car
FXGT donor car
BZG with blacktop motor
Watanabe '8-hole' that my mrs outbid FLWLES on
Details sent through to me from Watanabe USA - I was trying to find out what they were
SSR Type X wheels I bought - they weight 3.8kg apparently without tyres.
FOHA front lip as fitted to some of the prefacelift NZ corolla GT's.
Gots some rear louvres just to see if they suit it or not
No decent photos of the actual car yet as its still in the garage on jacks and got no room to get a decent shot.
So yeah thats it so far, haven;t got as much done on it as I had hoped this year as I have dislocated my shoulder three times and my collarbone where it connects to the sternum, so haven't been able to get into it. Got surgery in a few weeks too so won't be moving very fast.
Really want to get this done so that I can start working on my premier and land rover.
I have an image in my head to work towards in terms of exterior styling etc, should be quite tasteful, will see how it pans out.