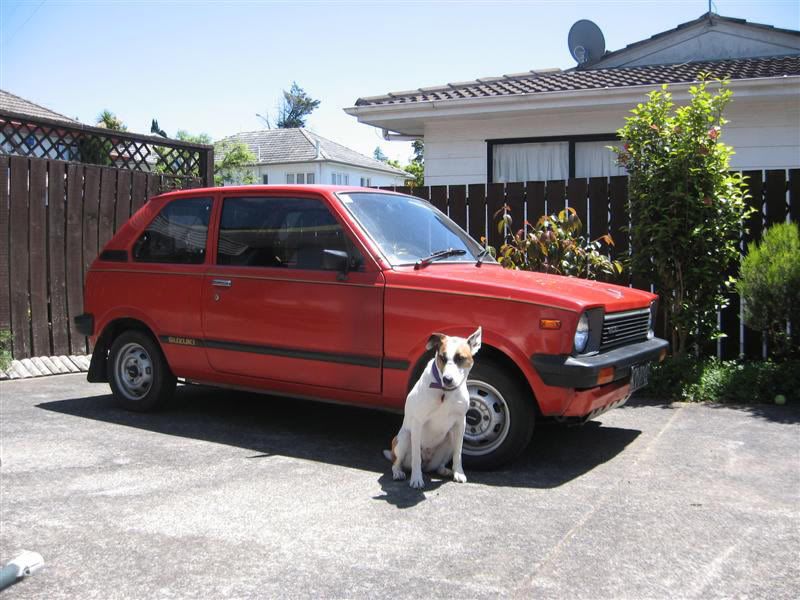 Hi! Welcome to the new condensed project thread for my my Suzuki SS80.
Discussion thread here:
viewtopic.php?f=18&t=12230
1983 Suzuki SS80C 3 Door
F8B 3-cylinder 796cc SOHC
Mikuni DIDS 2430 single carb
Struts / disc up front, leaf / drum in rear
630kg curb weight
3,295 x 1,405 x 1,335 mm
Turning radium 4.4m (less if handbrake used)
Red
Now here's some historical photos and ramblings from the last five years I've owned this fine vehicle:
~~~~~~~~~~~~~~~~~~~~~~~~~~~~~~~~~~~~~~~~~~~~~~~~~~~~~~~~~~~~~~
painted my rocker cover with some vht wrinkle paint.
While the car was parked in the parking basement below our apartment someone broke in through the passenger door. The lock was already well stuffed but now its way worse and some of the panel is munted. see below.
I finally did something about it:
Installed Jaycar central locking. So deluxe.
Also got some 'Forever Black' brought back from SuperCheap in Aussie, and did my bumpers and dash:
Looks 1000% better (dash was faded to a light gray before). Forever Black is mean, but after using it I reckon that it's actually exactly the same as the black dye you can get for business shoes to make them black again. But I'm very happy with the result, and it's supposed to last for ages. (Forever?)
Anyway the car has been getting really hard to start lately, I've had to push start it every morning for the last month or so, and quite often again in the afternoon after work. I checked the points, leads and sparkplugs are they were all good.
Quite often after cranking the starter for a while it would fire up as soon as the starter stopped cranking. The coil is a 6volt model with a ballast resistor, and after looking at it for a while and doing some internetting, I realised that there should be a resistor bypass circuit so when the starter is cranking, the current for the coil doesn't go through the resistor and drop to a stupidly low voltage.
So I read through my handy workshop manual which mentioned that only the European market SS80's got a coil resistor bypass added to the starter (because of colder weather or emissions laws maybe?) but the feature was added to all SS80's in later models. (this was added literally the MONTH after mine was made).
So I tried a couple of things, one was to pull a wire from the positive terminal from the starter directly to the positive terminal on the coil. This didn't work. the car cranked really well and seemed to want to fire up straight away, but as soon as the starter stopped, the car died. So instead I just ran two wires from each side of the ballast resistor, and connected a little momentary foot switch in the cabin. I step on this when I crank, bypassing the resistor and giving the coil all available power. It works so good! Fires up first time every time! Very simple solution, but it took me all day to think of it and I now feel very happy with myself. (no more push starting)
worked out later that it was the resistor that was playing up, and have sinced swapped both coil and resistor. Removed the foot switch and has been fine since.
Got a spare cam reground:
Old cam was:
Advertised duration @.004 lifter rise: 255-260 degrees
Duration @ .050" lifter rise: 185-190 degrees
Cam lift: .198"
New cam specs are:
Advertised duration @.004 lifter rise: 282 degrees
Duration @ .050" lifter rise: 205 degrees
Cam lift: .254"
I have had a dash cluster from a Subaru Justy. Once the actual tacho was out of the cluster, it was just a matter of identifying each of the three terminals on the back and hooking it up!
I taped it to my ashtray for the time being, but I want to build some sort of box for it at some point.
In this photo you can also see the panel I made to cover the hideous cutout that had been made when the stock radio was replaced. It's got three switches, two control my two small sony 2ch amps, and the third powers the tacho. the tacho switch is kinda pointless, but the amp switches are there because the car does not have an ACC circuit, just OFF and ON

So with the switches on I can still listen to the stereo without the ignition being on.
The second amp is powering a pair of 70's Akai speakers that I mounted under the dash:
They are about 30wRMS and 4ohm, the metal casing is mega thick and really heavy and they sound fantastic.
Got a sweet sump guard from an Isuzu Bighorn - the mounting holes even lined up almost perfectly with the sway bar shackle mounts. Pretty happy with that.
on way back from Ruapehu:
and of course the photo-in-container-yard photo. love it.
Bought home some parts off a newer model Alto - namely some struts and the front swaybar, which is a lot meatier than mine.
overall length is the same, but unfortunately doesn't clear the subframe on one side. grr. Can't use it.
I've had a nice dash sitting around for a while that I only just put in - It's in really good shape, and doesn't have the stereo panel hacked out.
I've never had a roof lining in the car since I've owned it, so every time you shut the door it sounds like kicking a big empty steel barrel or something. I had a plan in the past of putting green astro-turf up there, but it was put in the too hard / cbf basket a while back and that idea's since been canned. But the other weekend I put this in instead: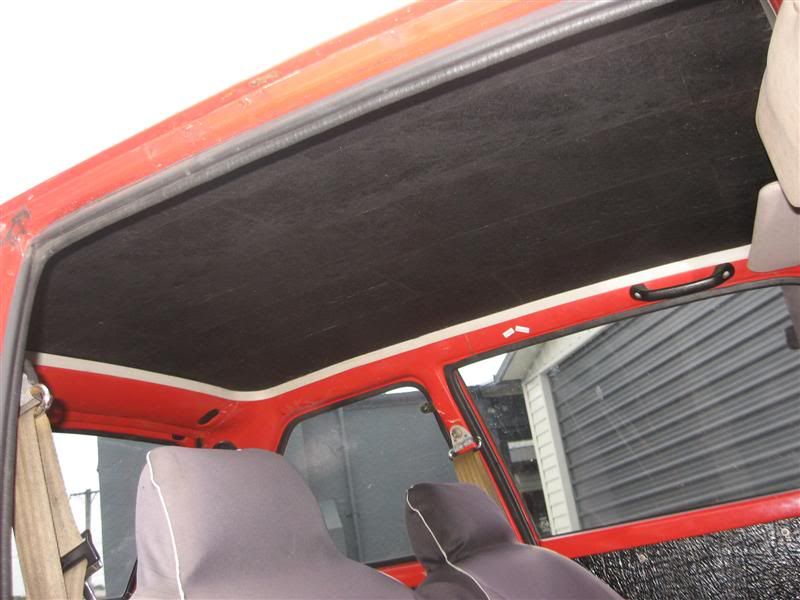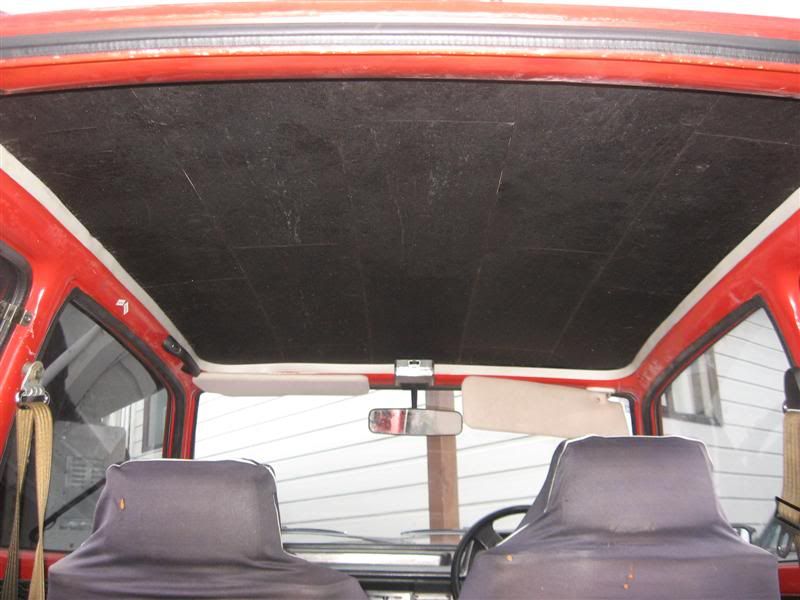 They're bostik sound deadening sheets, so pretty heavy - will be interesting to see if they stay stuck once summer rolls around. Probably overkill, but was nice and easy to put up. For now I'm stoked. Looks good, sounds good, and smells like a freshly tarred road. mmm.
The other thing to happen was just the other day I found these red wheels that are just like the white ones I still haven't done anything with, except they've got tires, the paint's in reasonable nick and theyre not multi-stud. So I put them on!
They've got 175-60 13's on which are quite a change from the 145-70 12 I had before. Quite a bit more traction in the corners which has gotta be good! No scrubbing except at full lock where it's only really rubbing the rubber splash guard anyway.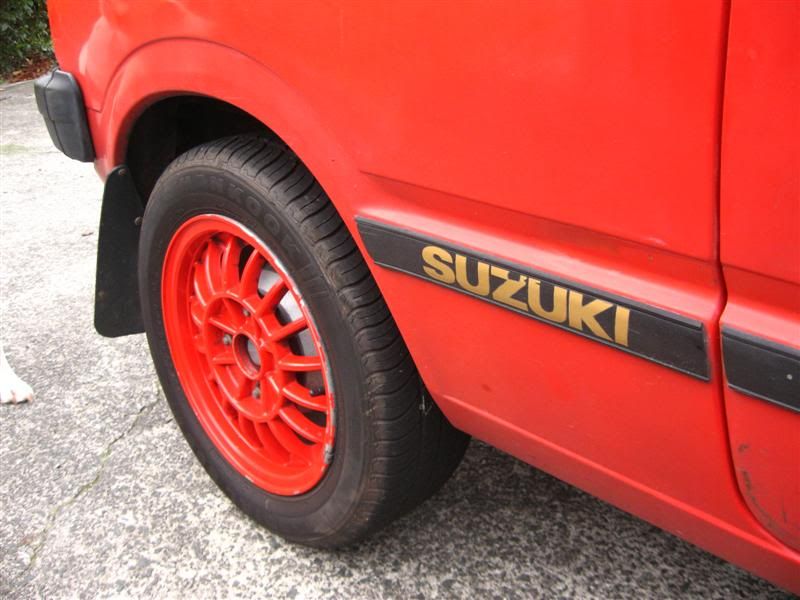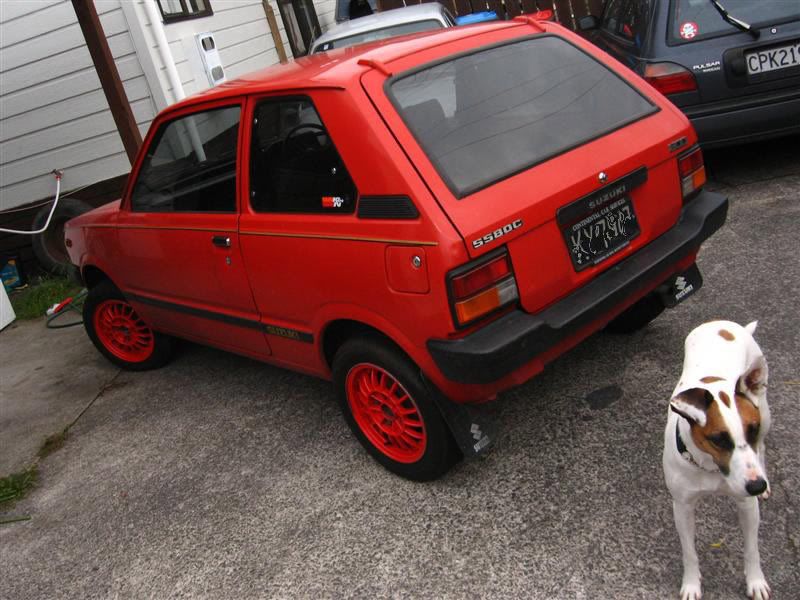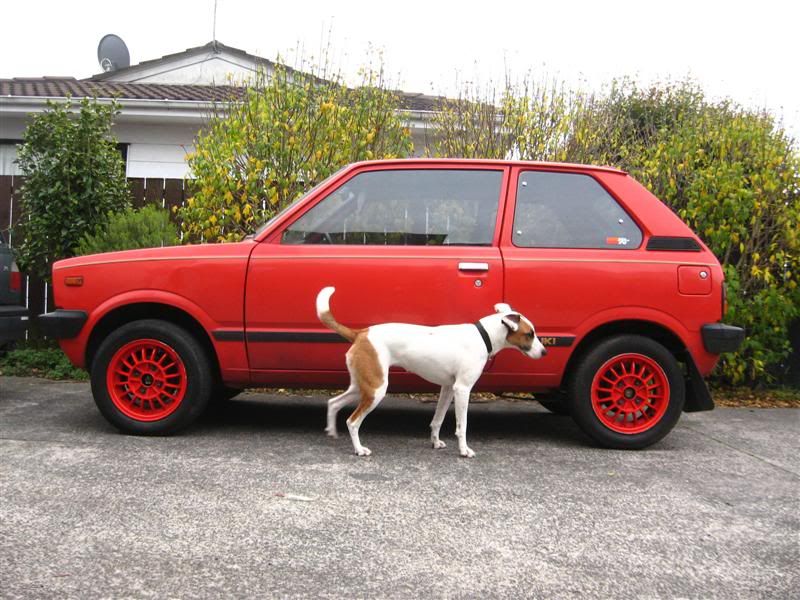 And I'm sure this is what we all want to happen next:
might not actually chop the dog quite that far though.